Rules of Prototype Track
Date:Apr 24, 22
Views: 1251
1. Requirements
The Prototype Track is for an introduction and demonstration of the innovative design of underwater vehicles. The design shall be based on the operational tasks and technical requirements of the AUV/ROV track, and prototype design of the final assembly, parts, key techniques and other contents shall be carried out.
The entry design shall be innovative in functional theory and layout. The design instructions shall include main innovation points, calculation process, design drawings, implementation methods, and application analysis. The design instructions shall not exceed 25 pages (in addition, the technique introduction shall not mention the name and logo of the participating team, so as to facilitate the organization of online blind review in the later period).
Functional demonstration videos are encouraged to submit, which can be physical functional demonstrations or 3D model demonstrations. Two versions can be prepared for video production. The demo version shall not exceed 2 minutes in length and the file size shall not exceed 200M; the full version must not exceed 5 minutes in length and the file size must not exceed 1G.
Entries shall not mention any content involving national secrets, and the participating institutions are responsible for reviewing them.
2. Contest Rules
2.1 Contest process
Participating teams will conduct the draw to decide the defense order via webcasting. According to the team's defense and the design instruction, the experts will score to determine the contest results. The total defense should not exceed 10 minutes, of which the work description shall not exceed 5 minutes. Respondents must be members of the team and cannot be replaced by others outside the team.
2.2 Scoring Rules
The scoring rules are as follows: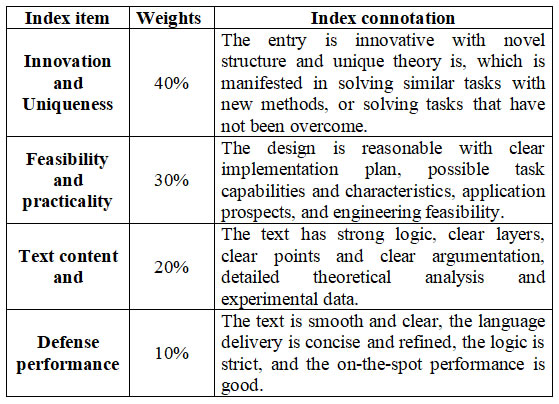 The Organizing Committee reserves the right of final interpretation.